RipTiger
is a popular web video downloader. It has the ability to download videos that are being streamed using many different URL's. Different URL's and Formats which are supported by RipTiger are :
Flash Video (HTTP and RTMP),


Windows Media (HTTP, MMS and RTSP)


Real Audio and Real Video (HTTP and RTSP)


MPEG


QuickTime


Streaming MP3 (Shoutcast)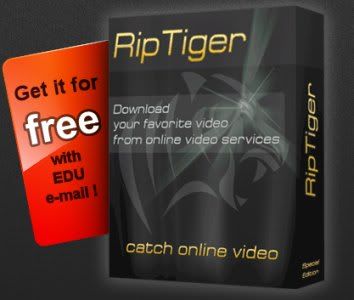 RipTiger
is a paid software and recently when I went to their website I came across this image which says
RipTiger
is free for those who have .edu email ID.
So, how to get RipTiger license for free?
Giveaway
This is what they say:
All you need to do to obtain RipTiger for free is to send an email to support@riptiger.com with the following subject: "Free license for .EDU students". Please be sure to use your .edu email address, and in a very short run you will receive your free copy of RipTiger, just like that.
"By participating in this promotion you agree that the software is provided to you "as is", without any promise of technical support or warranties, neither express nor implied. You agree to use this license for academic purposes only. You may also be asked to provide further proof that you are a student or a teacher.
Many of us won't have .edu email ID, because only students and faculty of universities and colleges are eligible to have that email ID. So, if you are a student or faculty (and if you have .edu email ID) then you can use this special chance to get RipTiger license for free.